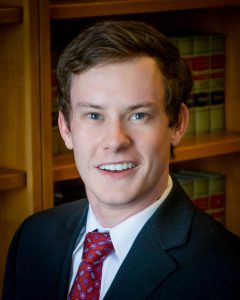 Chase Hardy is a Texan through and through.
Ingrained in him is the belief that fortune follows the bold. The courageous that are willing face their oppressor and fight for what's right. Courage from the client. Courage in the courtroom. Chase always fights to win.
Chase understands that a journey through our judicial system can be intimidating. The fear of the unknown can creep into every crevice of a person's life. This is why Chase has dedicated his life to understanding the intricate and nuanced workings of the court— and of the law.
A continual thirst for knowledge and years of traditional schooling has crafted Chase into a truly zealous advocate for everyone he represents. He believes deeply in the wisdom of the jury and is proud to take a case to verdict when it's in the best interest of his client.
The son of a travel agent and a family law attorney, Chase was raised with the spirit of adventure and the knowledge that in America, anything is possible.
A San Antonio Native, Chase began his primary education in the small area of Castle Hills. He studied Finance at Baylor University in Waco, Texas where he was heavily involved in student life.
As an undergraduate, Chase was chosen by Baylor Administrators to serve on the government relations team as a student representative. Here, he was able to advocate for financial aid and other student interests with officials in Austin and Washington D.C.
Chase stayed in Waco for his legal studies where he attended Baylor University School of Law. Chase contributed to the law school's advocacy programs by competing on multiple Mock Trial and Moot Court teams in state and regional competitions.
In law school, Chase spent his summers clerking for two prominent San Antonio Plaintiff's and Defense firms and had the honor of working with Justice Patricia O. Alvarez of the Fourth Court of Appeals in the summer of 2017.
Chase was hired as an Associate Attorney with GRIFFIN PURNELL LLC in 2021. His practice areas include: Complex Commercial Litigation, Mass Torts, Products Liability, and Civil Defense.
When outside of the courtroom, Chase enjoys working on his family ranch in Boerne, Texas.
Served as a 3L student intern. Completed an independent study on Texas law, attended multiple hearings, and prepared research on a variety of civil, criminal, and administrative issues.
Served as a Plaintiff's Firm law clerk for the second half of summer 2018. Drafted petitions, prepared legal research, and assisted attorneys in a successful three-day jury trial.
Served as a Defense Firm law clerk for the first half of summer 2018. Drafted motions, summarized discovery, and prepared legal research.
Served under Justice Patricia O. Alvarez for the summer of 2017. Experienced the civil and criminal appellate process first-hand through courtroom observation, legal research, and participation in the administrative journey of an appeal.
American Bar Association Mock Trial Team Member
Achieved the title of Semi-Finalist after competing against 16 teams in the regional competition in Los Angeles, California. 
American Association of Justice Mock Trial Team Member
Served as an alternate early in my second year of law school. Team ultimately won the regional competition in Houston, Texas.
Baylor Law Spring 2017 Moot Court
After surviving nine rounds of oral argument, Chase and his partner advanced to the championship and were awarded the title of "Best First Year Team."
Mack Kidd Administrative Law Moot Court Competition
Awarded the title of "Semi-Finalist" in the statewide competition.
BBA Finance
BBA Entrepreneurship
Technology & Current Events
Trial Experience
&
Representative Cases
Clevenger v. John Crane Inc., et al. Case 16-2-07573-8 SEA Seattle, Washington (2021)
Usio Inc. v. Vaden Landers, Case 2021-CI-01069, Bexar County, Texas (2021)
In Re: The Texas Municipal League Intergovernmental Risk Pool, Case 13-20-00486-CV, Hidalgo County, Texas (2020)
Jessica Youngblood v. Flightdeck Trampoline Park LLC, Case 236-307009-19, Tarrant County, Texas (2019)
Holder v. John Crane Inc., Philadelphia, Pennsylvania (2019)
Garo v. Garo, Bexar County, Texas (2019)
In Re: Texas Opioid Litigation, Case 18-0358, Texas MDL (2018)
Co-Author: Effective (And Ethical) Promotion of Your Law Practice (2018)
Help! My Boss Has a Flip Phone: Ten Tech Tips to Optimize an Ancient Workflow (Texas Advanced Paralegal Seminar – 2021)